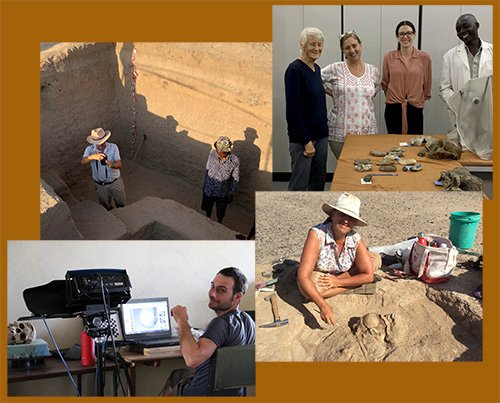 1. to look for new fossils in the Turkana Basin, where the earliest fossils of H. sapiens have been found. We will focus on the sites of Lokodongot, Nakoret and Eliye Springs.
2. to date these sites, and contextualise the hominins ecologically through the other fossil animals found there.
3. to use well-tested palaeontological techniques, together with exciting new palaeoproteomic techniques, to map the evolution of modern African faunas in the last million years.
4. to describe all the new hominins from Turkana found by the IN-AFRICA Project and those discovered through excavations by the NG'IPALAJEM team.
5. to bring the information together to answer the question of when and why our lineage evolved, who among the existing fossils is likely to tell our story, and when did our story begin to change that of the animals with whom we shared an African landscape.
NG'IPALAJEM's six sub-projects
Team: Marta Mirazon Lahr, Robert Foley, Aurelien Mounier, Lucia Nadal, Justus Edung, Edwin Murungi, Jason Head, Louise Leakey, Edgard Camaros, James Clark, Matthew van Schalkwyk, a NG'IPALAJEM post-doctoral researcher and our Turkana Team
Team: Marta Mirazon Lahr, Robert Foley, Rainer Grun, Matthieu Duval, Christine Lane, Celine Vidal, a NG'IPALAJEM post-doctoral researcher and our Turkana Team
Team: Marta Mirazon Lahr, Edgard Camaros, Robert Foley, Mikael Fortelius, Jason Head, Louise Leakey, Meave Leakey, Bienvenido Martinez-Navarro, Lucia Nadal, Matthew van Shalkwyk and a NG'IPALAJEM post-doctoral researcher
Team: Marta Mirazon Lahr, Enrico Cappellini, Matthew Collins, Frido Welker and a NG'IPALAJEM post-doctoral researcher
Team: Marta Mirazon Lahr, Edgard Camaros, Robert Foley, Louise Leakey, Meave Leakey, Aurelien Mounier, Lucia Nadal and a NG'IPALAJEM post-doctoral researcher
Team: Marta Mirazon Lahr, Robert Foley, Louise Leakey, Meave Leakey, Aurelien Mounier, Lucia Nadal, Frido Welker